Integrated Staffing is a NYS Certified Women Owned Business Enterprise, commonly referred to as a WBE. This means we are an independent business concern that is at least 51% owned and controlled by one or more women who are U.S. citizens or Legal Resident Aliens; whose business formation and principal place of business are in the U.S. or its territories; and whose management and daily operation is controlled by a woman with industry expertise.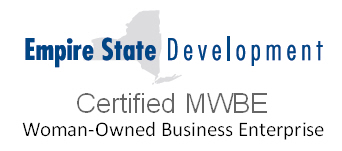 A certified women owned business enterprise is a business concern, which has gone through a rigorous and stringent certification process to confirm the business is owned, managed, and controlled by a woman or women. Certified WBE's use their certification credentials to gain access to private entities, as well as a number of federal, state, and local government agencies.
Click Here to view Integrated Staffing's WBE profile or Click Here to learn more about the WBE Program!